Monday, December 17, 2012 by Unknown
I just read this and it really spoke to me about so much pain and sadness...from
HERE
Grief:The church I pastor is three miles from the sight of Friday's slaughter, where 26 people were murdered. Certainly this event will in some way define and shape the spiritual life of the community for decades to come. I know it will profoundly affect my family; many of those killed were the same age as one of my three daughters.
I spent last Friday in the counseling center the town set up, where families had gathered waiting to hear the names of their child, or to see if any new information came out. At one point an official came in and let everyone know —as best he could—that if their children were still unaccounted for, than certainly they were among those who had been slain. All afternoon there was, understandably, weeping. All I could do was take any opportunity I had to minister grace to them.
"Weeping with those who weep" was the first and obvious biblical command to apply. It was not difficult to do. This event was tragic, and I can't imagine the pain of losing a child, of waking the next morning to an empty bed that would not be filled again. For those who suffered loss and are not Christians, I prayed that God would reveal himself to them, and point them to Christ. For those who do know the Lord, I sought to encourage them by reminding them that God is still on his throne, and that this—as hard as it is to imagine—is part of his permissive will. There is good at the end of this unspeakable evil. Maybe some will come to faith in Christ through this trial. Maybe believers will be encouraged to trust God more deeply, and live for Him more faithfully. We don't know what the good is, but we know that God's word promises that for those who are called by God, all things work together for our spiritual good and his eternal glory.
newtown signDavid understood this truth when his son died. He took comfort in the knowledge that his child would not come back to him, but that he would go to that child when he himself would die, and be in the presence of the Lord.
The challenge in this trial is, of course, to find comfort in the sovereignty of God and in the reality of grace; not to minimize the suffering, but to give hope and shine the light of God's ultimate glory in it. Through God's grace he gives believers the ability to look past the shocking loss and the hideousness of this sin, and (with time) to start to see his glorious purpose through this evil.
But now—right now—we are dealing with the fact that this act was unspeakably evil. These murders show us the wickedness of man and the depravity of the heart. All of us have this capacity for evil in us—we don't all commit this kind of heinous crime, but the reality of sin is ever present. And that realization is what then leads to the glory of the cross. There is a savior who bore the curse of the law that the wickedness in our hearts deserves. There is a savior who is greater than this act of malice. In that sense, the more wicked the sin, the more glorious the cross. Hence in the greatest of all tragedies—the murder of Jesus—God was working grace, with the goal that His grace would be known by us.
It has to be noted that this kind of sin and horrible loss is not absent in the pages of Scripture. Job had his family murdered by the devil, and Job responded with a heart of faith: "The Lord gives, and the Lord takes away. Blessed be the name of the Lord." And Job's faith in the sovereign hand of God must remain ours now.
Cross: At the same time, we remember that Job also asked "why?" as we are prone to do. We must realize, however, that God never answered Job's why question, nor did he permit Job to question his wisdom. Instead, God simply pointed Job back to his own glorious character, sovereignty and wisdom. And Job found a place of blessedness when he rested there. His blessing came by resting in the glorious purposes of God. I think we want answers, but God does not give us answers. Instead, he reveals his character and glory. And that is faith—leaning on the sovereign hand of God. Not knowing why, but knowing who to lean on through the loss. God does not answer our questions; he IS our answer.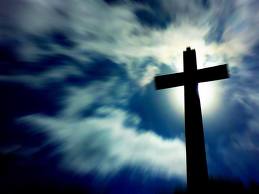 In suffering, the purpose of God is to lead us to Himself and His sufficiency in Christ. God pointed Job to His revealed glory in creation, yet we have so much more. Job did not know about the cross where God would reveal His glory, grace, and character as He had not done previously. He crushed his Son for sinners. He demonstrated his love in that, while we were yet sinners, Christ died for us. The life, death, and resurrection of Jesus Christ is the ultimate revelation of the character of God. Death is not the end of the story for those who turn to Christ, but eternal life in the Son is.
That is why, at the end of every day (but especially last Friday), we pray that God would point people to the cross of Christ. That in this terrible crime that places the horrible consequences of sin and the reality death before us, that the glorious message of life in Christ would advance through his people. Thus, against the darkness of such evil, the light of Christ would shine more brightly.